Over the past five years, the Pathology Department has seen a remarkable improvement in the human resource situation with competent staff presently available to improve the quality of diagnosis and management of cases of cancer.
The African Cancer Registry Network (AFCRN) conducted a familiarisation visit to the Kumasi Cancer Registry in 2012 with recommendation for the registry to be a population-based one. This culminated in the training of the Registry Manager in Malawi in July the same year in an AFCRN sponsored workshop. The Registry is currently established as a population-based one with abstraction of cases of cancers seen in 2012 completed and those for 2013 still ongoing. The reference population for the Registry is the city of Kumasi as designated by the 2010 Ghana Population and Housing Census. The designation 'Kumasi' as recorded by the Ghana Statistical Service including all localities as designated by the 2000 census will be maintained irrespective of the political re-demarcations that may follow subsequent censuses. This is to ensure consistency with the reference population.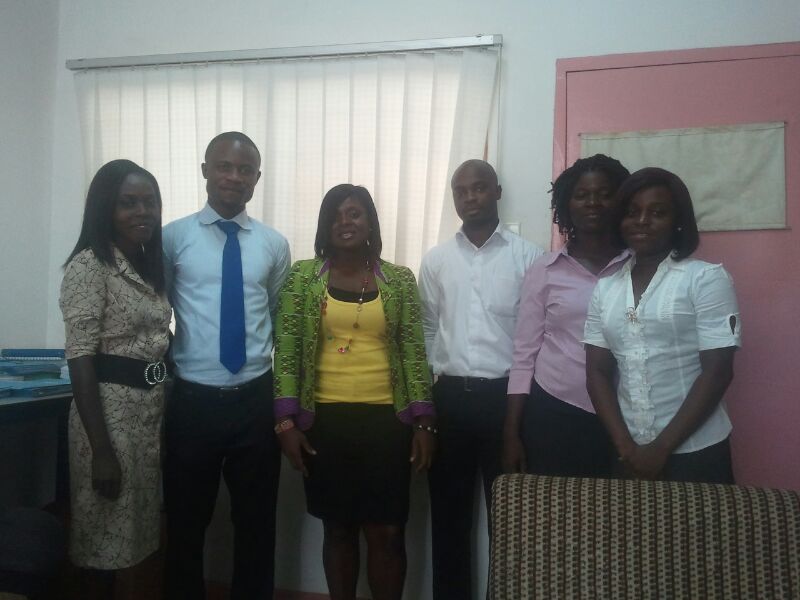 Pictures: (left) Part-time Registrars at KsCR; (right) Dr Dennis Odai Laryea (L) Registry Manager and Dr Baffour Awuah (R) Director of Registry
The KsCR is currently run from the Public Health Unit of the Komfo Anokye Teaching Hospital. Dr Baffour Awuah is the Registry Director assisted by Dr Dennis Odai Laryea as the Registry Manager. Currently, the Registry has one full time Registrar and five other part-time Registrars who are attached to the Public Health and Research and Development Units of KATH.
Registry Area
The Registry currently covers the city of Kumasi as designated by Ghana's Population and Housing Census of 2010. Kumasi is the capital city of the Ashanti Region which is one of ten administrative regions in Ghana. It lies in the middle zone of Ghana and is a major transit route between the north and south of Ghana. It currently has an estimated population of 2,035,064 based on the 2010 national census.
The identified data sources in line with its status as a PBCR are:
All clinical departments in the Komfo Anokye Teaching Hospital
Private pathology laboratories
Private clinics/hospitals
Haematology laboratory
Ghana Health Service Facilities
Quasi-Government Health Facilities
Methods of Registration
Cases finding
Hospital visits
Laboratory records review
Data is collected using a data abstraction form (see Attachment)
Data Analysis 2012 - 2015

Publication:
Laryea DO, Awuah B, Amoako YA, Osei-Bonsu E, Dogbe J, Larsen-Reindorf R, Ansong D, Yeboah-Awudzi K, Oppong JK, Konney TO, Boadu KO, Nguah SB, Titiloye NA,Frimpong NO, Awittor FK, Martin IK. Cancer incidence in Ghana, 2012: evidence from a population-based cancer registry. BMC Cancer. 2014 May 23;14:362.
Contact:
Dr Baffour Awuah
Registry Director
e-mail: This e-mail address is being protected from spambots. You need JavaScript enabled to view it
Kumasi Cancer Registry 
P O Box KS 9339
Kumasi, Ghana
March 2017